Conference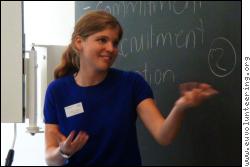 "Civic and Community Involvement: Responsibility for Democracy and Societal Participation"
September 9-12, 2014 in Aachen and Rolduc (NL)
A "Europe of citizens" depends on the vivid exchange of ideas about civil society as well as the importance of civic and community involvement in each country individually. The Voluntary University 2014 proposes the following thesis: Civic and community involvement realizes the three principles of every European society in very diverse initiatives and forms of participation:
Democracy, societal participation and responsibility
Since the beginning of the 21st century we have experienced an increase in civic participation.
This has shown for example through a growth in citizens' initiatives. The involvement of citizens in political proceedings has increased especially on a local level, e.g. via referendums or town hall meetings. On the other hand, Colin Crouch, in his 2003 essay Post-Democracy, described the current trend of an eroding democracy that still maintains its political form. He pointed to an increasing discontent of western countries concerning politics. The heightened influence of trade associations on political decision-making and negotiation processes has become increasingly obvious. Under these circumstances: Do civic movements have a realistic chance of being heard concerning the shaping of public life? And what about the exclusion of certain groups in society that has become tangible in the area of civic engagement? How can we overcome institutional as well as societal barriers? The organizers of the European University for Volunteering wish to promote a critical discussion of questions and ideas regarding these developments.
The European Voluntary University in Aachen/Rolduc is part of a long ongoing tradition. Previous Voluntary Universities took place in Barcelona (1993), Lyon (1995), Santiago de Compostella (1999), Freiburg (2001), Luzern (2005) and Basel (2011). The aim of this year's University is to show the current state of research in the area of voluntary work. In addition, this year's University shall contribute to the exchange and transfer of knowledge between theory and practice.
The European University for Volunteering of 9-12 September 2014 will offer a forum for the presentation and discussion of scientific and application-oriented questions, enabling a dialogue about key aspects of civil society: responsibility, democracy and societal participation.
With this call for papers we invite interested researchers, lecturers and professionals to engage themselves with this topic and related questions. Contributions showing theory construction, international-comparison and empirical work are welcome. Authors are also invited to submit papers describing exemplary models from their professional practice. There is the possibility for discussion panels as well as individual contributions.
The seminars will take place 11-12 September 2014 from 2 p.m. to 5.30 p.m. A contribution should not exceed 20 minutes so that there is enough time left for discussion.
Papers and abstracts have to be submitted by 31th March 2014. Please send your papers and abstracts to j.soeder@katho-nrw.de or m.genenger-stricker@katho-nrw.de .
Papers and abstracts should contain the following information:
Panel contribution: Person responsible, thematic focus, description of the content (max. two pages), speakers and heading (preferably max. three contributions)
Individual contribution: Name, subject, description of the content (max. two pages)
The sessions will be conducted in either English or German.
Approval decisions on papers will be disclosed by 17 April 2014.
Within a short time you will find further information concerning the schedule, program and event venues on www.EFU2014.de .
Abteilung Aachen
Fachbereich Sozialwesen
Prof. Dr. Marianne Genenger-Stricker
Tel.: +49 (0)241 60003 - 38
Fax: +49 (0)241 60003 - 88